My husband and I had the opportunity to snag some ultra-discounted tickets to go see his mother in Portugal. That doesn't happen every day—usually we have to save for years. But this was too good to pass up, especially since we had a couple prescriptions we needed to fill that I'd heard cost a lot less there. So we stocked up on food for our college kid who lives with us, sent our sixteen-year-old to a friend's, told our eight-year-old's school she was leaving, and packed our bags. Lisbon, of course, had to bring her stuffed animals that she can't sleep without.
My first clue that this wasn't our usual trip was when they changed our first trip to three planes instead of two. They ended up sending us west across the US, when we wanted to go east toward Europe. Eventually in San Francisco we were finally turned and headed the right way. The flights were really awful and long this time, and no food was offered until the flight from Newark to Lisbon. Fortunately, we were prepared for that. My daughter hates most plane food, so we always have to think ahead.
A Lot of Layers
Another thing I hadn't thought about too much when scooping up these great tickets was the January weather in Portugal. While it's a lot warmer than the snow we're dealing with, it was definitely not beach weather! And there just happened to be a cold front all but a few of the ten days we were there. The second I got to my mother-in-law's house, I was glad I'd packed so many layers. I lived in Portugal during an entire winter once, and I remembered being cold. Layers are best so you can pile them on or take them off, but I missed my winter jacket some of the days! Below you can see me taking a selfie in three jacket layers plus a shirt or two. My husband and I joked that it was colder inside my MIL's apartment than outside—and that was true in the beginning. But fortunately, she had a few electric heaters, and we got along fine. Well, except the once we turned them up too high and made the power turn off. Yeah, that did happen.
Low-key
One plus is that we did things we didn't ordinarily do when we go in the summer. And since we only had the youngest child with us, who, like us, speaks Portuguese (from her dual immersion classes at school) and doesn't have a lot of high expectations that teenagers often do, it was all low-key. Below (and the picture of me above) were taken at one of our favorite places, the Parque de Paz in Almada. Of course we had to go see our old friends the pigeons, geese, and ducks. But we had a surprise—this time there were also seagulls. Thousands of them. I've never seen them there before (see the arrow in the picture below). Maybe with not as many fishermen and people on the beach, they were looking for food.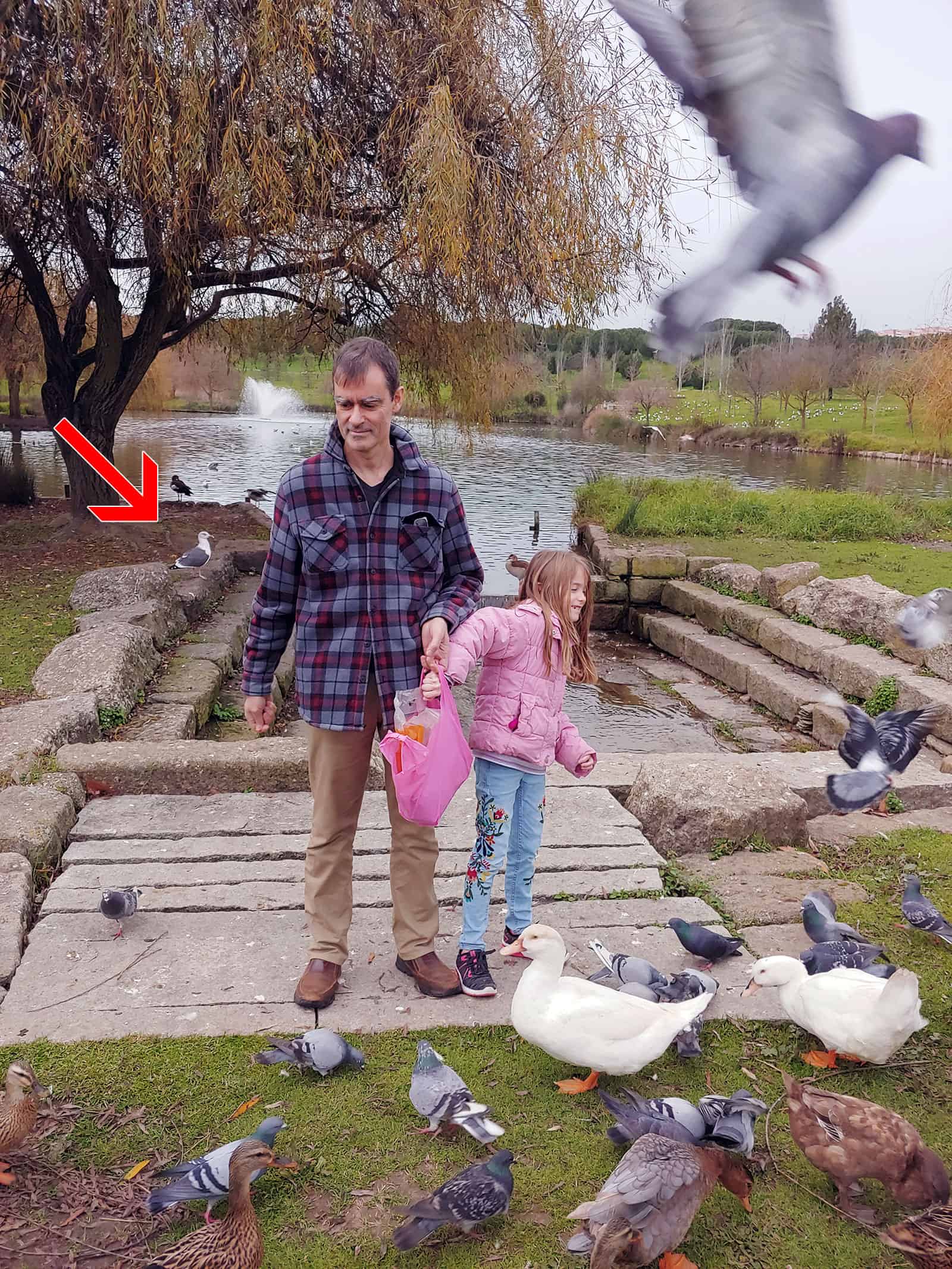 Exploring More of the Parque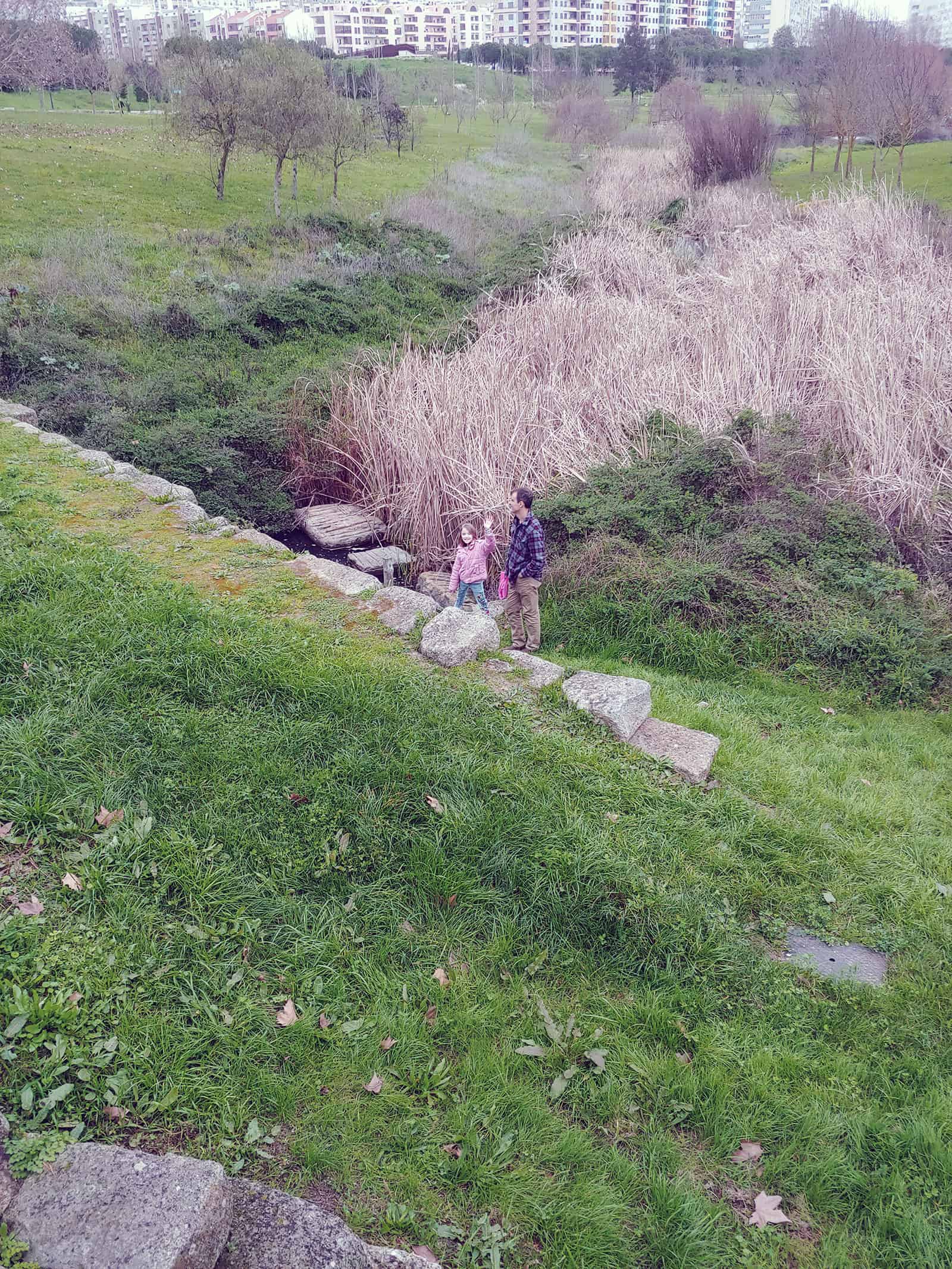 Lisbon Climbing a Wall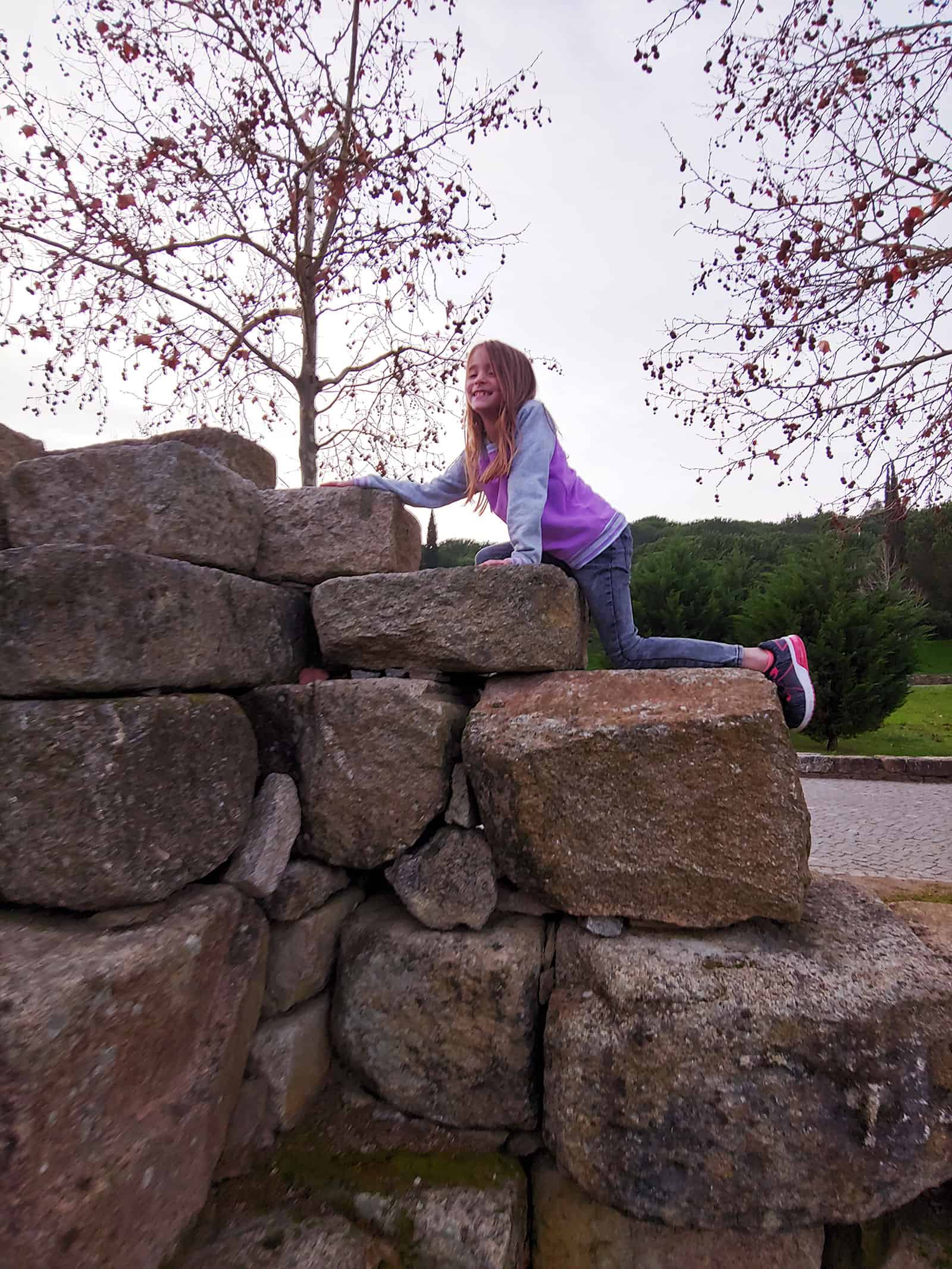 The Beach
Of course we had to go see our beach, the Praia de Sereia (Mermaid Beach), even though the water was COLD. Well, Lisbon did fall in once. We ended up going to the beach three times!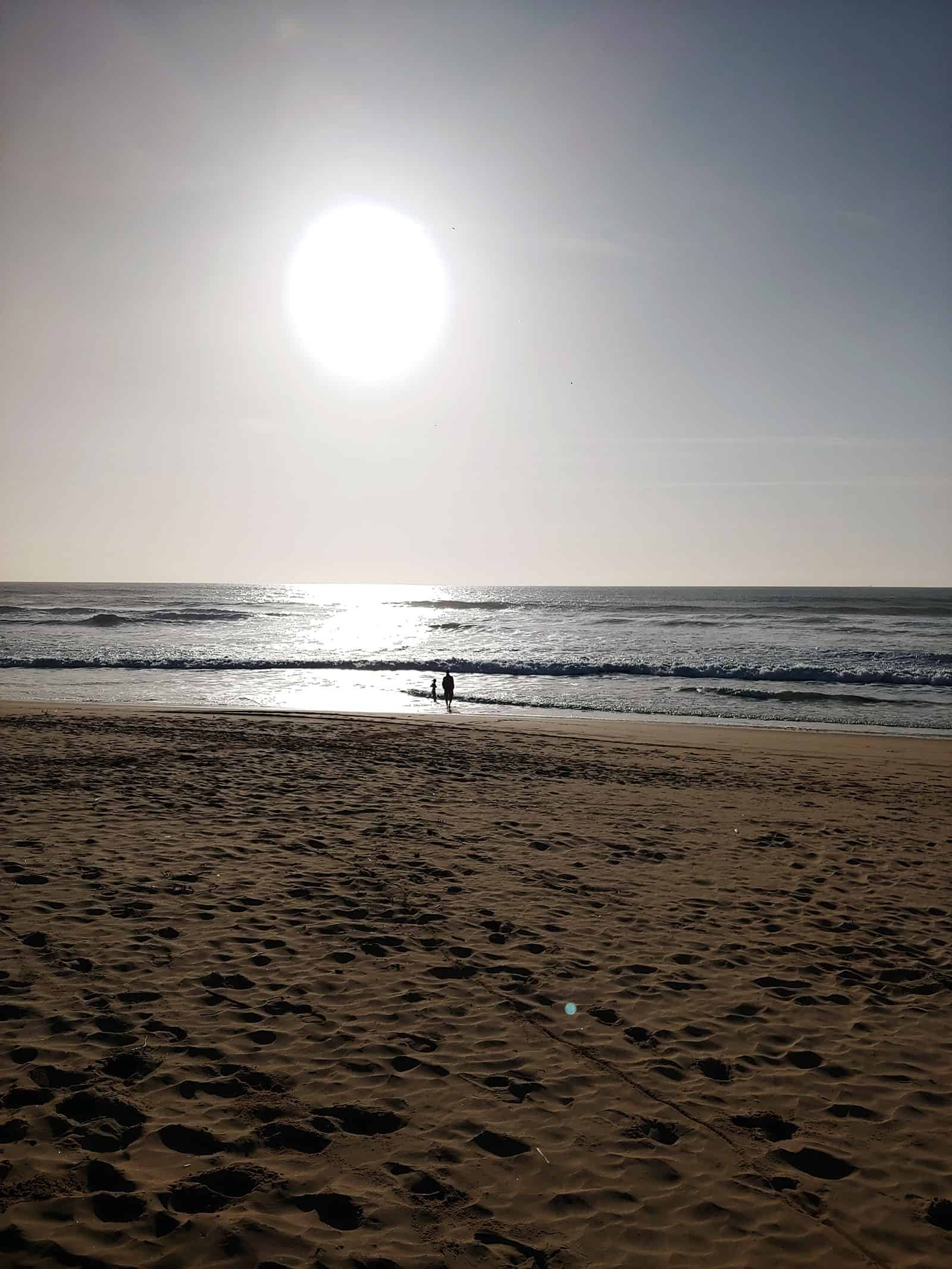 Lisbon's First Visit to the Hairdresser
Lisbon also got to go to the hairdresser for the very first time with her grandmother while Mom and Dad had lunch in Lisbon. We got back just in time to snap the pictures! Here are the ladies all beautified. Unfortunately, the new do lasted about an hour. Mostly because she begged to go back to the beach, but also because it's humid there.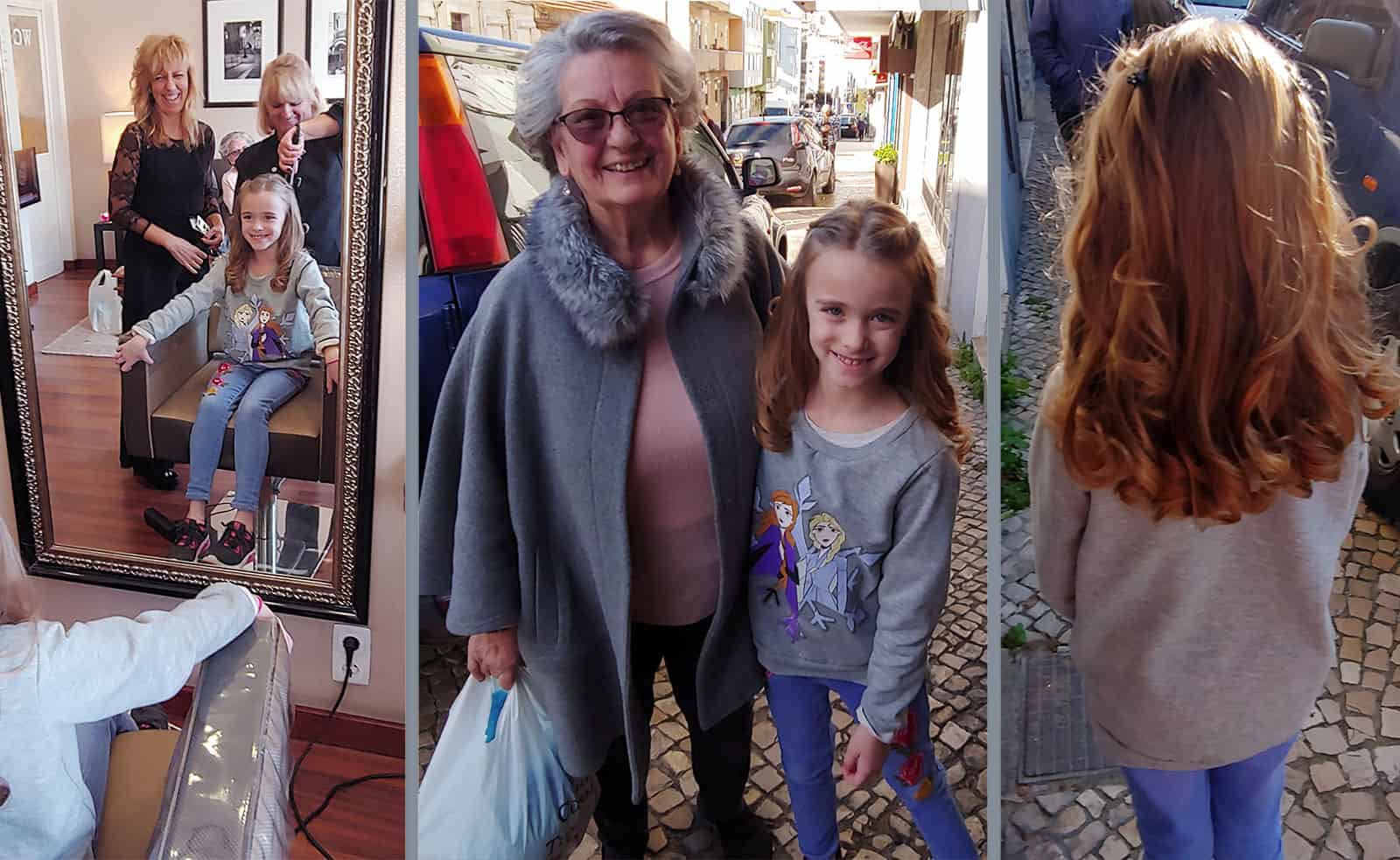 Baby Angel Lost a Foot
We also stopped by the Convento dos Capuchos (a convent near the Costa da Caprica), and Lisbon wanted to take this picture. She thinks the statue looks like her second cousin (and she's right)!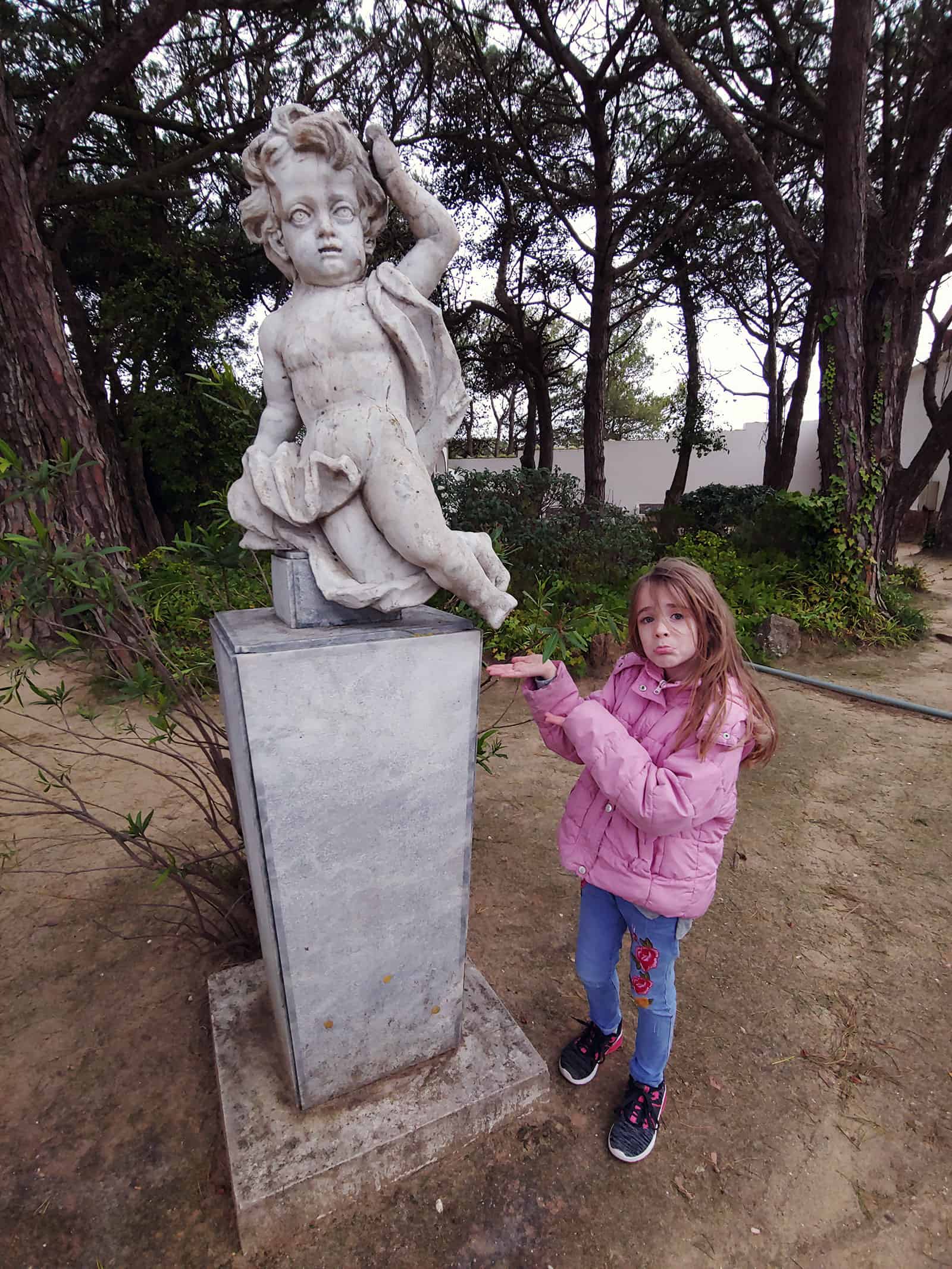 Sanctuario de Cristo Rei
Since it's so close to my MIL's house, the Christ the King monument is an easy visit. But we actually haven't been to the Christ the King monument for more than a decade, but kids always love it, so we decided to take Lisbon. But it's so changed from what I remember! The area has a huge paved parking lot now, other smaller monuments, and there is even a restaurant. I find I still love going up there to survey the surrounding area of Almada and Cova da Piedade. You can see my Mother-in-Law's apartment from the top (and vice-versa), but it's too small to point it out. You can see it was getting a little dark.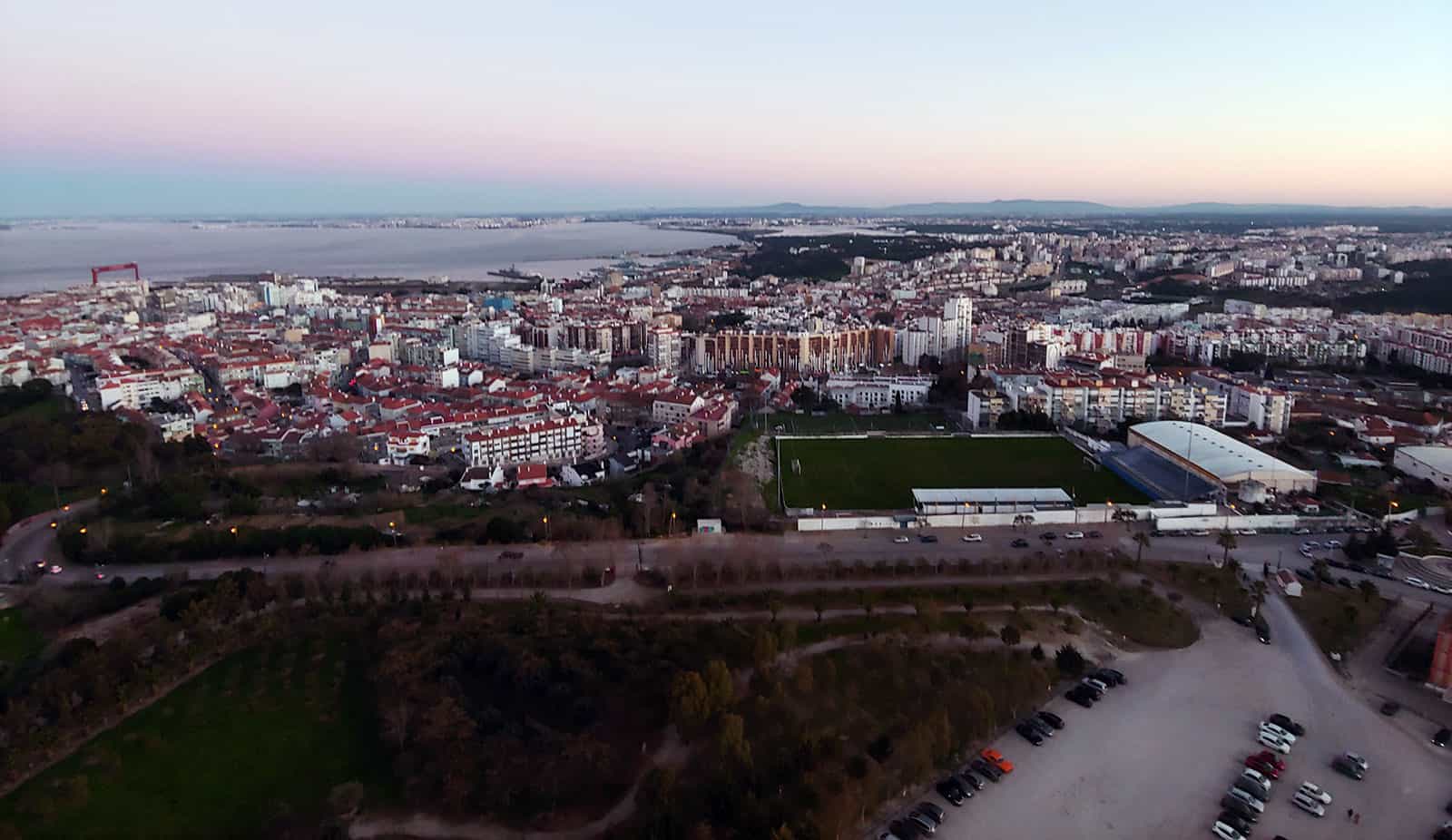 Lisbon and her Dad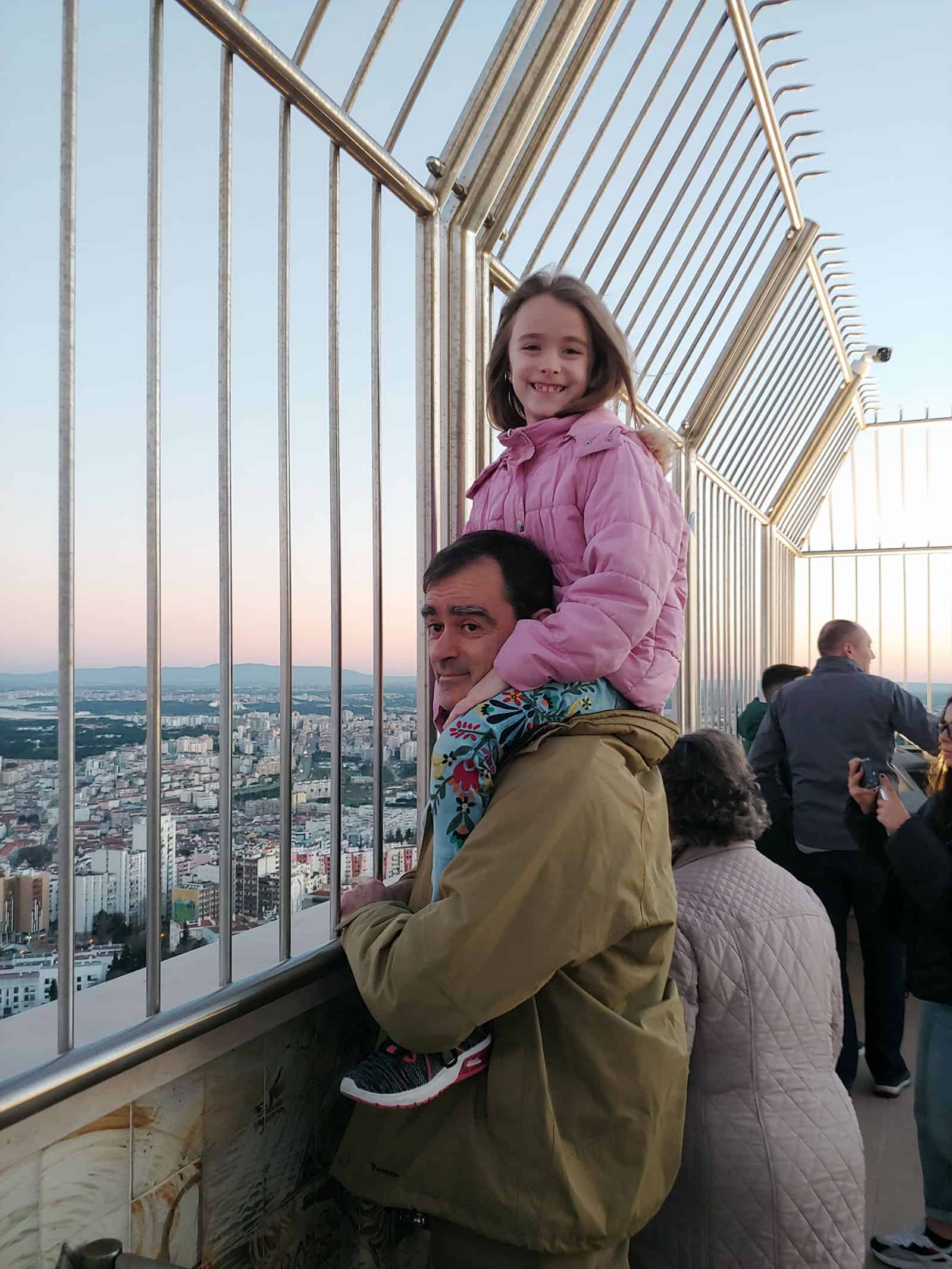 Lisbon and Me
They light the statue up at night.

With Grandma
Night Fell Fast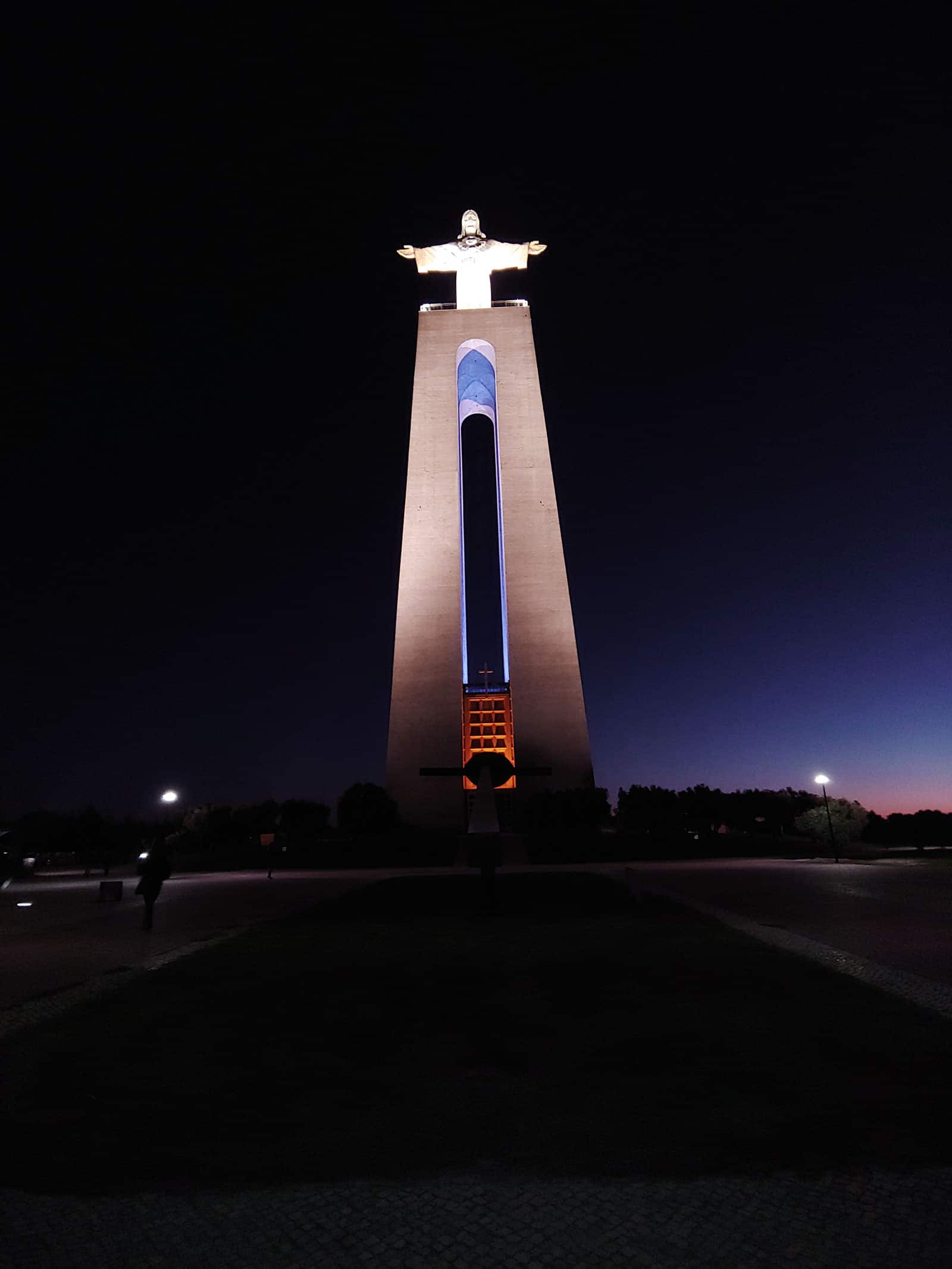 The April 25th Bridge
I took this picture near the Cristo Rei monument.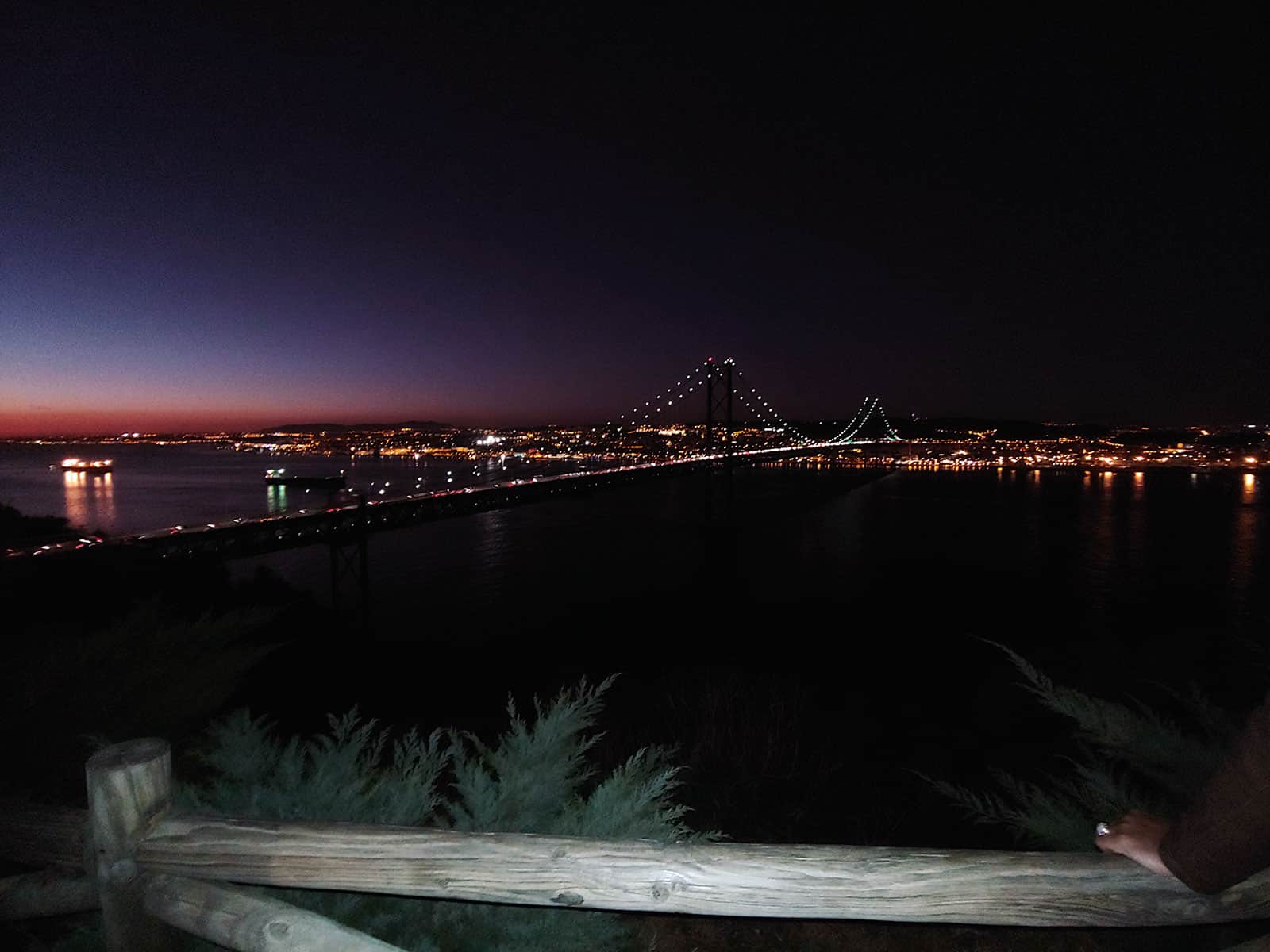 Was it Worth Going in Winter?
Absolutely. Yes, the layovers and flights were generally terrible with our bargain tickets, and it was colder than I remembered, but it was still fun. My mother-in-law's cooking is great, eating mil folhas any time is a wonderful perk, and best of all, there wasn't any snow. Plus, the prescriptions I stocked up on there paid for one and a half of the tickets. On the other had, I really missed the warmth of the beach, and I'd still rather go in the summer, even if that means paying more for tickets. Have you ever gone on a discounted trip? Where to?

Copyright 2020 Teyla Rachel Branton
Reuse notice: you are free to print A Quick Trip to Portugal in the Winter for personal use or non-commercial use with friends, share this post link anywhere, quote a short excerpt with attribution and a link to this site, but you may not use this post in its entirety on your own page. Thank you for caring about copyright.